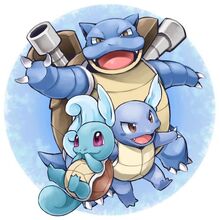 Description
Blastoise is a large, bipedal tortoise-like Pokémon. Its body is dark blue and is mostly hidden by its tough, brown shell. This shell has a pale yellow underside and a white ridge between the upper and lower halves, which also encircles the arms. Two powerful water cannons reside in the top sides of its shell. These cannons can be extended or withdrawn and can be used to assist in high-speed charges. Blastoise's head has triangular ears which are black on the inside, small brown eyes, and a cream-colored lower jaw. Its arms are thick and striated with three claws on each hand. Its feet have three claws on the front and one on the back. It has a stubby tail.
Location
Evolve Wartortle
Evolution
Ability
Torrent: Powers up Water-type moves under 1/3 of maximum HP.
Rain Dish: Heals HP under rainy weather.
Move Set
Level up (edit)
Lv
Move Name
Type
Category
Pwr.
Cldwn.
Dur.
Acc.
Effect %
Target
0
Flash Cannon
80
-
100%
10%
Beam
May lower target's Sp. Defense by 1.
0
Tackle
50
1.2
100%
Single
4
Tail Whip
-
2.4
100%
Single
7
Bubble
20
1.2
100%
10%
Single
May lower target's Speed by 1.
10
Withdraw
-
2.4
Always
Always
Single
Raises user's Defense by 1.
13
Water Gun
40
1.2
100%
Single
(No additional effects.)
16
Bite
60
1.2
100%
30%
Single
May cause target flinch.
20
Rapid Spin
20
100%
Single
24
Protect
-
60
30
Can't Miss
Self
Evade all attacks for 10 times.
28
Water Pulse
60
1.2
100%
0.2
Single
May confuse the target.
32
Aqua Tail
90
1.2
90%
Single
(No additional effects.)
39
Skull Bash
100
100%
Single
46
Iron Defense
-
3.6
-
---
100%
Self
Raises user's Defense by 2.
53
Rain Dance
-
60
60
Always
All
Powers up water-type moves (x1.5), weakens fire-type moves(x0.5).
Raises accuracy of Thunder and Hurricane as 1.
Changes Weather Ball to be water-typed.
Lowers Photosynthesis, Morning Sun, Moonlight recovery.
60
Hydro Pump
120
1.8
80%
Beam
(No additional effects.)
Damage Taken
Main article: List of Pokemon Weaknesses
Ad blocker interference detected!
Wikia is a free-to-use site that makes money from advertising. We have a modified experience for viewers using ad blockers

Wikia is not accessible if you've made further modifications. Remove the custom ad blocker rule(s) and the page will load as expected.