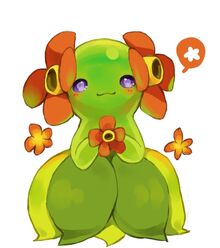 Description
A Bellossom grows flowers more beautifully if it has evolved from a smelly Gloom - the stinkier the better. At night, this Pokémon closes its petals and goes to sleep. When Bellossom gets exposed to plenty of sunlight, the leaves ringing its body begin to spin around. This Pokémon's dancing is renowned in the southern lands. When these dance together, their petals rub against each other, making pretty, relaxing sounds. When the heavy rainfall season ends, it is drawn out by warm sunlight to dance in the open.
Location
Evolve Gloom
Evolution
Ability
Chlorophyll: Raises Pokemon's Speed in sunny weather.
Healer: May heal an ally's status problems.
Move Set
Level up (edit)
Lv
Move Name
Type
Category
Pwr.
Cldwn.
Dur.
Acc.
Effect %
Target
0
Leaf Blade
90
1.2
100%
Single
Critical hit chance * 2.
0
Sunny Day
-
60
60
Always
All
Powers up fire-type moves (x1.5), weakens water-type moves(x0.5).
Lowers accuracy of Thunder as 50%.
Lowers SolarBeam cooldown.
Changes Weather Ball to be fire-typed.
Affects Photosynthesis, Morning Sun, Moonlight recovery.
Doubles the buffs of Growth.
0
Sweet Scent
-
100%
Single
 ?
Acid
40
2.4
100%
10%
Around
May lower target's Sp. Defense by 1.
 ?
Poison Powder
-
1.8
75%
100%
Around
Poisons the target when hit.
 ?
Stun Spore
-
2.4
75%
100%
Around
Causes target paralysis if hit.
 ?
Sleep Powder
-
2.4
75%
100%
Around
Causes targets to sleep if hit.
 ?
Mega Drain
40
1.2
100%
Single
Heals user of 1/2 damage dealt.
23
Magical Leaf
60
1.2
Always
Single
Always hit target (except protected)
32
Lucky Chant
-
30
Can't Miss
100%
Around
Lowers target's critical hit ratio level by 1.
38
Natural Gift
N/A
1.2
100%
Single
Power and Type depends on the type of held Berry.
Does not consume the berry.
44
Moonlight
-
60
Can't Miss
Self
Heals user of HP based on weather.
(Normal: 1/2; Sunny: 2/3; Rain/Sandstorm/Hail/Gravity/Trick Room: 1/4)
51
Giga Drain
75
1.2
100%
Single
Heals user of 1/2 damage dealt.
53
Leaf Storm
140
1.8
90%
100%
Beam
Lower user's Sp. Attack by 2.
57
Petal Dance
120
1.2
100%
Single
Confuses the user every 3 attacks.
Damage Taken
Main article: List of Pokemon Weaknesses
Ad blocker interference detected!
Wikia is a free-to-use site that makes money from advertising. We have a modified experience for viewers using ad blockers

Wikia is not accessible if you've made further modifications. Remove the custom ad blocker rule(s) and the page will load as expected.