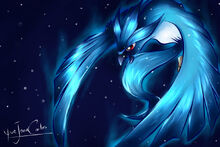 Description
A legendary bird Pokémon that is said to appear to doomed people who are lost in icy mountains. It freezes water that is contained in winter air and makes it snow.
The magnificent, seemingly translucent wings of this legendary bird Pokémon are said to be made of ice.
Location
Transfer
Evolution
Articuno is not evolved and will not evolve.
Ability
Move Set
Level up (edit)
Lv
Move Name
Type
Category
Pwr.
Cldwn.
Dur.
Acc.
Effect %
Target
0
Gust
40
1.2
100%
Single
(No additional effects.)
0
Powder Snow
40
2.4
100%
10%
Around
May freeze the target.
8
Mist
-
60
5.4
Always
Ally
Protects allies from stat reductions.
15
Ice Shard
40
100%
100%
Single
(No additional effects.)
22
Mind Reader
-
60
Can't Miss
Single
Next 10 attacks by the user would hit targets (regardless of buffs and debuffs)
29
AncientPower
60
1.2
100%
10%
Single
May raise user's Attack, Defense, Sp. Attack, Sp. Defense, Speed by 1.
36
Agility
-
3.6
Always
Self
Raises user's Agliity by 2.
43
Ice Beam
95
1.8
100%
10%
Beam
May freeze the target.
50
Reflect
-
60
5.4
%
Ally
Reduces Physical Attack damages by half.
57
Roost
-
100%3
Always
Self
Heals user 50% of max HP in 5 parts within 5 game ticks.
64
Tailwind
-
30
Always
Ally
Raises allies' Speed by 2.
71
Blizzard
120
1.8
70%
10%
Beam
May freeze the target.
78
Sheer Cold
N/A
1.8
30%
Single
Target faints when hit. Cannot hit target of higher level.
85
Hail
-
15
5 gt
%
All
Hits non-ice pokemons for 1/16 of max HP every game tick.
Changes Weather Ball to be ice-typed.
Affects Photosynthesis, Morning Sun, Moonlight recovery.
Damage Taken
Main article: List of Pokemon Weaknesses
Ad blocker interference detected!
Wikia is a free-to-use site that makes money from advertising. We have a modified experience for viewers using ad blockers

Wikia is not accessible if you've made further modifications. Remove the custom ad blocker rule(s) and the page will load as expected.