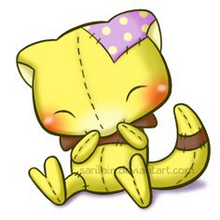 Description
Abra needs to sleep for eighteen hours a day as using its psychic powers are such a strain on its brain. If it doesn't, this Pokémon loses its ability to use telekinetic powers. If it is attacked, Abra escapes using Teleport while it is still sleeping as it has hypnotized itself so that it can teleport away when it senses danger. It uses a variety of extrasensory powers even while asleep.
Location
Route 34
Evolution
Ability
Move Set
Level up (edit)
Lv
Move Name
Type
Category
Pwr.
Cldwn.
Dur.
Acc.
Effect %
Target
0
Teleport
-
6
Always
Self
Moves user to another spot in battlefield.
Does not work if there is only one or if user is trapped.
Damage Taken
Main article: List of Pokemon Weaknesses
Ad blocker interference detected!
Wikia is a free-to-use site that makes money from advertising. We have a modified experience for viewers using ad blockers

Wikia is not accessible if you've made further modifications. Remove the custom ad blocker rule(s) and the page will load as expected.